Added on 6 January 2014
The Blue Journal Club is an international journal club on women's health research based on Twitter (as @BlueJCHost). We use the hashtag #BlueJC for our tweets. Simply add this hashtag ("#BlueJC") to each tweet and we will capture it. Each #BlueJC opens for 7 days with an advertised start time.
The next #BlueJC will also have a live demonstration session at SpROGs 2013 Conference in Nottingham, the United Kingdom.
All BJOG #BlueJC papers also have a complementary slide set suitable for face-to-face journal clubs with your local colleagues. You can access the slide set of this paper here (data S1).

We will discuss "A comparison of intramuscular diamorphine and intramuscular pethidine for labour analgesia: a two-centre randomised blinded controlled trial" by Wee and co-workers.
The paper has been made free-to-view for three weeks in December 2013. Trial Registration numbers of this paper: EudraCT No: 2006-003250-18; ISRCTN14898678
Start date and time: 6 December 2013 at GMT 1245pm (for 7 days)
Platforms: Twitter

Hosts: @JamesMNDuffy and @EichelbergerK
The discussion points are attached below (quoted from the published manuscript):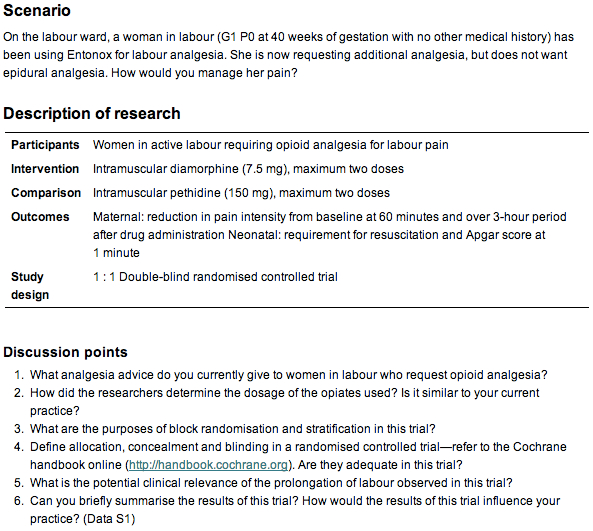 For those who want to understand hashtags, this may be a useful guide. For an introduction to #BlueJC, please refer to BJOG 2013;120:657–60. Follow @BlueJCHost, this blog and our Facebook page to receive news about #BlueJC.